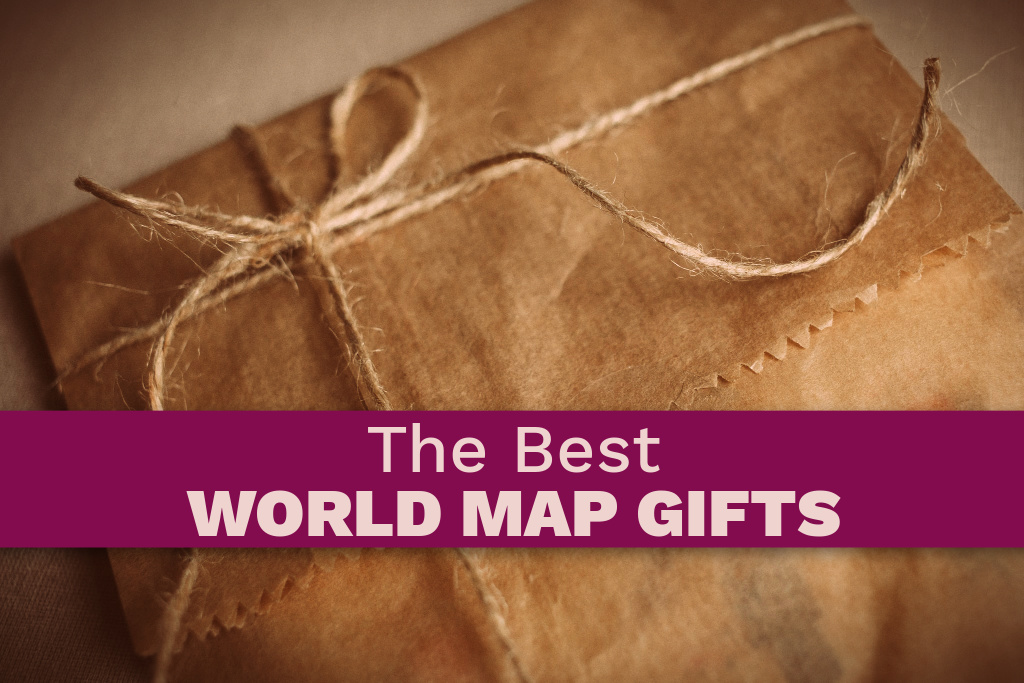 Some of the links on this site are Affiliate Links and if you use them to make a purchase, we may earn a small commission. For more information, read our Disclosure Policy.
Giving a travel map gift is like giving someone the world – which we think is the best gift in the universe! As passionate travelers, there is nothing we love more than giving – and receiving – world map gifts.
When it comes to map gifts for a travel lover, there are hundreds to choose from. Styles range from framed to personalized, romantic to destination specific. To help you find exactly what you are searching for, we have rounded up our Best Map Gift Ideas.
Whether you are searching for map gifts for men or need travel map gift ideas for her, an anniversary gift or a Christmas gift, you can find the Perfect World Map Gift on our list!
WORLD MAP GIFTS
We think the best world map gifts for travelers are ones that conjure memories by tracking previous journeys or stoke the desire to set off on grand new adventures.
Finding the perfect Map of the World gift for your traveler will depend on their style – and we include a range of the best ideas for maps as gifts. Because we have so many map themed gifts on our list, we have categorized them to help you best find the perfect gift map. That said, be sure to look through all of our World Map Gift Ideas to find the one that is right for your recipient!
Pro Tip: Before buying travel themed gifts, be sure to read all of our Tips For Buying Map Wall Art!
World Map Gifts for Him or Her
Most map art gifts are loved by travelers of both genders and people of all ages. We are kicking off our list of the best map related gifts by highlighting some of the best travel map gifts for her or him.
Framed Map Gift
Topping our list of world map gift ideas is a classic, framed National Geographic map. The detailed map wall art displays the world in muted tones. Country borders are shown and labeled, as are bodies of water and individual states in the USA.
What makes it one of the best gifts for map lovers is that it can be personalized – and it even comes with push pins for marking past travels or future trips. Buy it now!
Is this not exactly what you imagined giving as a gift? Go to our Framed World Map page for more ideas!
Map Print Gift
There are so many travel map gift ideas when it comes to Prints and Posters! We especially love map print gifts that are unique and ready to hang – which is why we love this bold colored, vintage-style world atlas. Buy it here!
This map gift is priced right at around $50. Find more map gifts under budget in our Maps for $50 or Less article!
Personalized Map Gift
Personalized map gifts are a top choice when it comes to gift giving! The personalization – either a famous travel quote, a trip name or the recipient's name – make it a thoughtful gift that is sure to be cherished. Custom map gifts are ideal for any traveler (and it's a great travel map gift for couple, but we share more gifts for traveling couples in the next section!).
Our favorite personalized world map gift has room for 3 lines of text and comes with push pins to mark places visited, too. Buy it here!
Scratch Map Gift
One of the reason travelers love maps is that they can use them to track their travels abroad, which is why a scratch off map is an excellent personalized travel map gift. We personally like the Wanderlust Scratch-off Places I've Been Map that features a vividly colored background when countries are revealed. Buy it here!
Need a gift for a young traveler? Check out this Scratch Off Map for Kids!
Canvas Travelers' Maps Gift
A canvas map wall hanging is a fantastic world map present! Canvas wall art is inclusive of many different styles in a range of colors. We love this bright and bold artistic map on canvas as a gift, but you can find more ideas on our Canvas Maps page. Buy it here!
Scratch Off Destination Map Gift
Need a wanderlust gift for an ambitious world traveler? A travel destination map gift is exactly what you are looking for! This map features iconic places around the world that are top bucket list destinations. Each time your travelers visits one of them, they can reveal the photo. Buy it here!
Map with Pins Gift
Push Pin maps are a fantastic, personalized gift – and we have already highlighted a few map gifts in our list that come with pins. Another fun Where We've Been Map Gift is a magnetic map. With magnets – rather than push pins – the wall map can easily be marked and rearranged while making travel plans (without leaving holes behind!). Buy it here!
Find more personalized map print gift ideas on our Personalized Maps page.
Vintage Maps for Gifts
Giving someone a vintage map present is a top choice! We share many old world maps gift ideas on our Vintage page, but we absolutely love this 3-Panel Old World wall hanging. With the two toned coloring, it can work well in a variety of rooms – which is why we think it is one of the best vintage map gifts. Buy it now!
Looking for more styles of big wall hangings? Find our top picks on our Large Map Artwork page!
Night Sky Map Gift
While world travel maps are fantastic, there are other types of maps – like a map of the night sky.
Commemorate a special date – be it birthday, anniversary or other special occasion – with a night sky map of the stars as seen on that exact date. Not a traditional map, we think it is one of the best sentimental map-related gifts on our list! Buy it here!
Couples Map Gift
We love map presents for couples – and we are featuring the top couples maps gifts to give each other or to give as travel themed wedding gifts.
Anniversary, First Christmas or Map Wedding Gifts for Travelers
If you are seeking a romantic map gift for a significant other, then a map heart gift might be exactly what you are looking for! The heart map gift that we like best is the square, framed artwork the features a map cut into the shape of a heart. The love map gift features the destination of your choice.
For 'where we met' gifts, choose the map location of your first meeting. You could also make it a first date map gift by choosing a map of your first outing together. Other ideas are to pick a map that features the location of your first house together or the first trip your took.
Ideal as an anniversary present or First Christmas together gift, a heart map wedding gift is also a great idea! Buy it here!
We share more travel map wedding gift ideas as well!
Long Distance Map Gift
Couples or families separated by distance can proclaim their commitment with a long-distance relationship map gift. What we really love about this map gift is that it is completely customized to the couple or family!
Both states (or countries) are features in the work of art – and hearts connected by a dotted line mark the cities where each person lives. The map art can be purchased as a print…or add an optional frame for stylish customized map gifts! Buy it here!
Where We Met Map Gift
A fun way to commemorate your first meeting, a Where We Met Puzzle Map is a perfect present for your sweetheart on Valentine's Day or as a special gift under the tree. The best part is, you can complete the Where We First Met Map puzzle together.
Once you complete the Where We Met maps puzzle, put it in a frame and hang it! Buy it here!
Map Wedding Gift
World map-themed gifts make great wedding presents – as the couple is about to begin an incredible adventure together. Our top pick for a personalized map wedding gift is a unique candle jar that is completely customizable to the couple – with names, a date, and a heart map. Gift-givers can upgrade the personalized wedding map gift to come in a gift box set filled with a variety of newlywed gifts. Buy it here!
Our Adventure Book World Map Wedding Gift
A wooden covered scrapbook featuring a world map, the Our Adventure Book is an ideal wedding present for traveling couples. Even better, if the couple plans to travel for their honeymoon, they can complete the memory book based on their first adventure as a married couple. Buy it here!
Looking for a World Map for Couples? A Couples Travel Map Push Pin Customized Wall Hanging – which we featured in the section above – makes great wedding gifts for travelers!
United States Maps Gift
Cartography gifts are not limited to maps of the world. A US map is a great gift for map lover who travels within the USA. We are sharing a few of our favorite United States gift maps.
Wooden US Map Gift Ideas
Stunning and stylish, this 3D wood artwork of America is one of the more unique map gifts. Easy to install and a beautiful presentation of the United States on any wall, we think it's one of the best map gifts for US travelers! Buy it now!
Find more fabulous wood artwork on our Wooden Map page!
City Map Gift
For anyone who has a favorite city, a city map is a fantastic present. Whether they dream of traveling there or it's a favorite place they have visited, a detailed rendering of the city streets can help transport them to the city without every leaving home.
City maps also make good hometown map gifts – for anyone who loves their own home city. Buy it here!
Find more fun city prints in our article, Travel Art for Your Home!
Photo Collage United States Map Gift
A fun way to frame your USA travels, the USA photo map gift is completed with your own travel photographs. Cut your photo from each US state into the shape of the state to create a unique photo collage on these USA maps. Buy it here!
US National Parks Map Gift
If you're giving a gift to a National Parks explorer, the National Parks Explorer Guide map is just the thing to buy! All 62 US National Parks are featured on the map – and each one is scratched off after visiting to reveal a stunning park image. Buy it here!
Home Decor Maps as Presents
Sometimes the perfect travel map gift isn't something that hangs on the wall, but rather a home decor world map gift. Our final world map gift ideas are travel themed presents that will enhance any home or office!
World Globe Gift Ideas
Some of the best Map of the World gifts are in the form of globes! One of our favorite unique map gifts is a globe whiskey decanter that comes with two globe-etched glasses. The unique map home decor is a conversations starter, for sure! Buy it here!
Gorgeous Globe Map of the World Gift
Colorful and unique, this globe is one of the best world map gifts for travelers. The beautifully detailed globe even rotates. The special travel decor is certain to brighten any room or office. Buy it now!
Find more map decorating ideas on our Home Decor page!
---
World Map Gift Wrap, Bags and Boxes
Now that we have shared our list of the best world map gifts, we are going to wrap it up with what to wrap it in! From wrapping paper to gift bags to boxes to tags, there are several budget gift options when it comes to wrapping your world map gift.
World Map Gift Wrapping Paper
Tip off the recipient of the great world map gift that awaits them with this beautiful vintage map gift wrap! It will work great for wrapping up a framed map or smaller gift. Buy it here!
World Map Gift Bags
If you are gifting a smaller map gift, a world map gift bag is just the right size! Giving a travel-related gift – like a bottle of wine from abroad? These map gift bags for wine will help set the tone of the gift. Buy it here!
Map Gift Box
A map gift box can be used to wrap up any travel-related presents! We like using a world map photo box – because it can also be used by the traveler to store travel photos after a trip. Buy it here!
Map Gift Tags
Party favor bag tags – like these – can double as gift tags – but we actually think the best gift tags for map gifts are actual luggage tags!
Need more Around the World Gift Ideas? Check out this list of Useful Travel Gifts – or find something quirky on this list of Unique Gifts for Travel.
---
PIN IT!