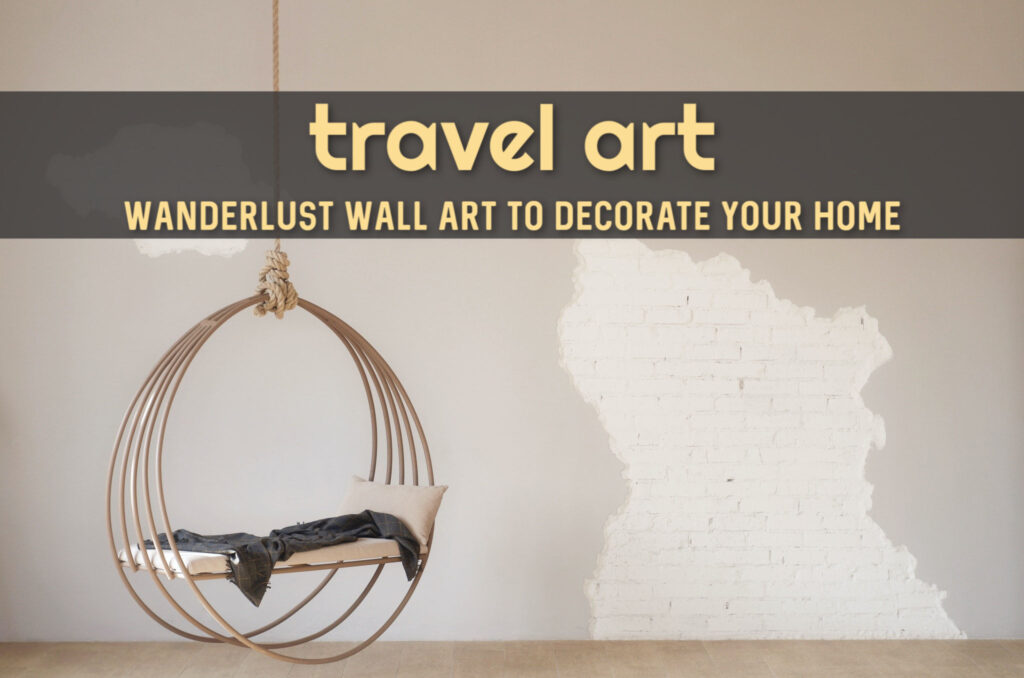 Some of the links on this site are Affiliate Links and if you use them to make a purchase, we may earn a small commission. For more information, read our Disclosure Policy.
Using Travel Art to decorate your home is a beautiful way to inspire wanderlust! When it comes to travel wall decor, there are endless possibilities – from vintage travel artwork to fine art framed landscapes and city skylines to airplane art.
If you are searching for the best travel-themed wall art ideas for 2023, we've got you covered! We have rounded up the absolute best wanderlust wall art for home decoration.
Travel Decor: World Travel Wall Art
World maps top our list for wanderlust wall decor – and you can find our top picks from the categories listed in our blog menu or on our homepage.
That said, world maps are only one category of travel wall décor. There are numerous other travel wall art ideas – and we have used many of them to decorate our own home!
Why Decorate with Wall Art about Travel?
After my first trip to Europe, I was gifted a framed picture of Paris. The travel art wall decor was a photographed city view from the top of the Notre Dame with the Eiffel Tower in the distance. The poster-sized photograph was mounted on my living room wall for years – and every time I looked at the framed art, I remembered my first trip to (what has now become) one of my favorite cities in the world.
In fact, the travel art traveled with me from apartment to apartment for 15 years – until we left the United States to become full-time travelers. (Don't worry though; I gifted it to a good friend who is equally stoked about traveling!).
Pro Tip: Travel art wall décor makes a great gift! Use our tips below for the best travel-inspired wall art present. If you can't find the perfect travel themed wall art gift here, check out this list of Unique Travel Gifts.
Travel Art
There are hundreds – if not thousands – of travel wall art ideas. We have waded through heaps of world travel wall decor in search of only the best travel-themed artwork – and narrowed it down to 9 different categories. For each travel decor category, we share a few specific travel artwork pieces.
City Poster Retro Wall Art
We love vintage travel decorating ideas – but more specifically, we love Retro travel-theme wall art! With clean lines and vivid colors, retro vintage travel wall art posters are an eye-catching and cool way to display your love for travel.
New York City Art Deco Wall Art
A classic NYC retro print travel poster, this wall hanging is available in various sizes (with a range of prices, too!). Hanging the popular artwork is easy, as well – as it comes already framed! Buy it now!
Amalfi Coast Wall Art + More Destinations!
Certain to brighten any room, this retro Amalfi wall art poster is printed on premium quality photo paper. Available in 4 different sizes, there are more than 40 travel wall decor signs featuring different cities around the world in the same style. From Amsterdam wall art to Tokyo's Mount Fuji to the London skyline, this Travel the World wall art is a top pick! Buy it here!
Travel Artwork Photographs
Photography is a one of our favorite artforms – both to create and to display. Framed travel art prints of famous landmarks and city skylines are wanderlust-worthy wall hangings!
Landmarks and Skylines Travel Decor
Photographs of iconic monuments and city landscapes are perfect travel theme wall decor. Whether you are dreaming of seeing these places in person or want a professional, framed photograph in remembrance of a trip, landmark and skyline photographs are ideal!
A photograph of the Eiffel Tower in Paris, the famous Sydney skyline or the iconic Golden Gate Bridge in San Francisco are a few of our favorites for wall travel displays.
4 City Travel Art Prints
This 4-piece travel canvas art in black-and-white with a splash of red is an affordable – yet remarkable – collection of city photographs for world travel decor. The framed canvas panels can be displayed on travel walls in a grid, in a line…or on separate walls. Paris, London, Rome and New York are featured in this 4-Panel travel wall art canvas. Buy it now!
Wanderlust Wall Art: City Maps + Transport Routes
When we travel to a new city, we pore over maps of the layout. In fact, we study city maps so intensely that they become part of our trip memories.
What better way to remember a walking route through than with city map travel framed art? We like the black-and-white maps (like this one of Madrid), but an antique map wall art of a specific city (like NYC) is interesting travel inspired wall art, too.
Transportation maps – like the London Tube or New York City subway system – also make cool travel map wall art.
Better yet, get a trio of city maps for your world travel home decor. These canvas, ready-to-hang maps featuring of a few of the world's best cities – Los Angeles, Paris, New York and London – are fantastic travel wall prints! Buy it now!
Beach and Nature Travel Wall Decor
Travelers who prefer nature over cities will find an abundance of options for natural travel art. From beaches to iconic natural wonders to wide open spaces, nature scenes can be beautiful travel inspired wall decor. Nature travel themed art works are an idyllic way to escape everyday life while you daydream of future trips.
Beach Wall Art Travel Theme
For many people, beaches are the ultimate travel destinations – so it makes sense that images of beaches make good travel themed artwork.
There is a great variety in beach art – from soothing and tranquil abstract beach wall art to palm tree pictures to 3D beach wall art. The options are endless…and what you buy all depends on your personal preference and wall art travel style!
A serene sunrise over sand dunes, a hand painted and colorful wave and a simple palm tree on the shore are a few of our top picks for wall decor travel theme beach art.
Iconic Landscapes and Natural Wonders World Travel Art
Travel artwork of natural wonders – like the Grand Canyon and Mount Everest – is an excellent addition to a home or office. Natural landscapes often inspire people to book epic trips, like an Appalachian Trail Wall Art map drawing motivating someone to embark on an iconic hike, or Antelope Canyon Wall Art (like this one!) encouraging travelers to make travel plans to the American southwest.
Travel Quote Wall Art
Travel quotes wall art is a unique reminder of why we love to travel. There are many styles of Travel Quotes wall decor – such as the quote over a travel photo, travel sayings wall art cut outs and adhesive wall art sayings. While Travel Quote Art will certainly look good in any room in your house, there are a few sayings that work well in specific rooms.
For example, the 'Eat Well Travel Often' Wall Art quote is a great travel wall sign for the kitchen. 'Live Love Travel' world map wall art is best suited for the bedroom or cozy family room space. For a child's room, we like the framed wall decor travel quote,'Adventure Awaits'.
And, general travel quotes work well to enhance a travel wall mural – or anywhere in the house where you display travel photos or memorabilia.
Travel Quote Wall Decals
A wanderlust wall sticker is another great way to display travel quotes on your wall. The Road Not Taken wall art (like this one!) would look good in any room in the house. However, the Susan Sontag quote, "I haven't been everywhere, but it's on my list" is a popular travel wall decal quote, too. We think it is best used on a travel picture wall with your personal photographs of previous trips.
Airplane Art for Walls
For many people, the airplane is the ultimate symbol synonymous with travel. Planes are not only a mode of transportation, but a part of the overall travel experience. Travelers can admire airplanes from their own home with airplane wall art.
There are many styles of airplane canvas wall art – including airplane panel wall art.
One of the most interesting artworks we have seen is an historic TWA airplane wing wall art photo with the NYC skyline in the background. After you purchase the print, you can frame the classic Constellation flight for your wall.
That said, there are many different styles of airplane travel art for travelers. We love airplane wall art panels that create a horizontal photo, but artistic vintage airplane wall hangings (like this!), over-the-wing window seat photos (like the one here) and seaplanes at dock (like this beautiful image) also inspire travelers.
Airplane Propeller Wall Art
Airplane propellers are an exceptional way to display a fondness for aviation and travel. An airplane metal wall art piece – like this stunning propeller – can be featured on its own – or surrounded by other travel artwork.
Country and Continent Wall Art for Travelers
If your travels are focused on a specific country or continent, you can decorate the walls of your home with a variety of Travel the World art work from those specific places.
Americana Wall Art Travel Themed Home Decor
There is a vast range of American wall art to commemorate travels throughout the United States. One of the top rated items is an American Flag Wall Art (Wood) that you can see in more detail here. Other popular travel-themed US artwork for the home are Route 66 signs (like this one), retro diner posters and unique USA maps (like this embroidered US map on canvas).
National Park Travel Inspired Art
US National Park retro travel wall art prints are popular, too – like this one for the Grand Canyon. The retro national park travel wall poster features a throwback design and can be ordered in several different sizes – with or without a frame.
Continent and Regional Wall Art
In our travels abroad and in our own searches for home décor we have come across fabulous art that features or represents an entire continent or region.
For example, we love this colorful Africa Map Wall Art painting on canvas and a picturesque European street scene. Asian-Inspired Wall Art can also be quite captivating – and is featured in frames, on tapestries and on Asian wall art panels. Asian-themed wall art can be bold or subdued, serene or chaotic. We particularly like this Monk and Elephant Asian inspired wall art.
Creative Wall Art: Travel-Themed
Travel-themed wall decor does not have to be related to a specific destination…it can just be about travel!
A compass wall hanging – either a 3D metal compass work of art or an abstract canvas featuring a compass – is travel-themed home decor that can inspire future travels. A script sign bearing the word 'Travel' hanging on the wall is a reminder of journeys taken.
These simple symbols are excellent travel wall ideas that can easily be combined with other wanderlust home decor.
DIY Travel Wall Art
Some of the best travel wall decor ideas are the ones you come up with yourself! Travelers can create an arts and crafts style wall art display using personal momentous – like ticket stubs, airline tickets and photos.
If you are going to use your own photographs, make sure you use a good camera for your travels (we like the DSLR Canon Rebel; it takes phenomenal photos, is easy to use and comes with a bundle of fun accessories!).
Another way to create fun travel photo wall art is to use professional snapshots and either retro or vintage postcards from places around the world.
World Map Art Wanderlust Decor
Maps are, without a doubt, one of the most loved travel decor wall art. There are numerous styles of Map Travel Themed Wall Decor – from artistic renditions to vintage old world maps to personalized maps to track travels.
Pro Tip: Navigate your way to all of our favorite Travel Maps Decor on our homepage!
---
PIN IT!