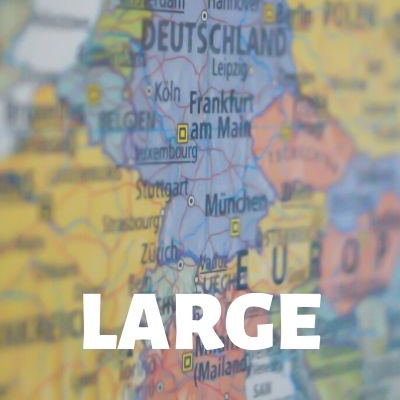 Large World Map Wall Art
Large map wall art is a great way to show your love for the world. Big world maps can easily fill expansive walls for gorgeous displays.
Some of the links on this site are Affiliate Links and if you use them to make a purchase, we may earn a small commission. For more information, read our Disclosure Policy.
Large World Map for Wall
This Giant World Map Poster is perfect for large walls; it measures 78 x 48 inches. With quality lamination, the Giant World Map Wall Hanging can be written on with whiteboard pen…and wiped clean again. The large map of the world is great for the home, office or classroom. Buy it now!
Pro Tip: Looking for other maps that can be marked or personalized? Push Pin and Scratch Off Maps might be exactly what you need! Take a look at our top picks on our Personalized Maps page or Tracking Travel article!
Wall Size World Map
An XL World Map Wall Mural, this gigantic map is impressive with dimensions of 104 x 156 inches. The large world map for wall comes in panels and is mounted like wallpaper, so it can be a bit of a project. That said, the large wall world map is certainly remarkable – and the poster print has a dry erase surface, so you can mark on the giant map of the world. Buy it now!
Extra Large World Map Artwork
With neutral colors, this massive map has a vintage world map look and works well in many different rooms. Measuring at 91 x 62 inches, the large world map wall mural comes in 4 sections. The large wall size world map can be applied with wallpaper glue or poster tape. Buy it now!
Giant World Map Canvas Art
With an artistic old world design and vivid colors, this large canvas world map artwork is stunning. We wouldn't call it a 'Huge World Map Canvas,' but at 36 x 48 inches, it is large enough to call is a big world map! The large world map wall hanging is a great buy-it-for-yourself home decor and makes a great gift, too! Buy it now!
Pro Tip: Many of our featured Canvas Maps come in a variety of sizes. Check out the artwork on our Canvas World Map page!
Pink World Map Art
All world maps for sale are not limited to hues of blue and green. This fashionable Pink Map Art is a giant wall world map that comes in various sizes, but the largest map has measurements of 77 x 46 inches. Purchasers can buy the very large world map with lamination or attached to hanging bars. Buy it now!
Tapestry Map Wall Hanging
If you are seeking a wall-size world map, consider a tapestry! Perfect for a dorm room (but can work in any bedroom or living room!), this Watercolor World Map Tapestry is a perfect large map for wall. The giant wall map tapsetry comes in a Large size (59.1 x 78.7 inches). The multicolor large map wall art is a creative interpretation of a world map. Buy it now!
Push Pin World Map Large
While this push pin map might not qualify as an extra large world map wall art, it is one of the most popular large world maps. What makes this large wall map so fantastic is that it's framed (measuring 40×28 inches) and has push pins to mark locations. Furthermore, the large wall mounted world map can be customized with a title. Buy it now!
Still searching for the perfect map art? Take a look at our Featured Maps page for inspiration and read our tips to Finding the Best Map Artwork to find the best world map for your space!
---
PIN IT!